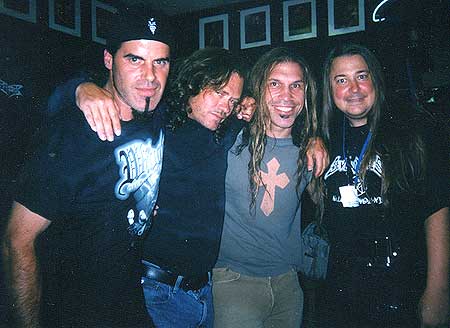 Ben Jackson, Midnight, Jack Frost and Andy Laudano



Progressive rock legends, Asia and Yes met with fans following their brilliant performances at Ft. Worth's Bass Hall. Guitarist Steve Howe (who played with both bands) signed for fans after the show before heading back to the hotel. Shortly thereafter, Yes bassist (and the only band member to be a part of every lineup), Chris Squire and drummer Allan White also signed for fans before heading across the street to The Flying Saucer pub where they met up with Asia's keyboardist, Geoff Downes for drinks. All happily signed autographs and posed for photos while they were there.

A few years ago I interviewed Judas Priest bassist Ian Hill, and he told me that Priest considered their American fans to be friends rather than just fans or paying customers. Usually, after every show someone from the band will come out and meet with their fans. Following their kick ass show at Nokia Theater, Hill, guitarists Glenn Tipton and K.K. Downing and even vocalist Rob Halford came out and signed autographs and posed for photos.

San Antonio fans that stopped at local downtown Mexican restaurant Mi Tierra's after seeing Saxon, got a nice surprise when Saxon stopped by for a late supper and drinks. The fans were considerate and didn't approach until after the band was done eating. Biff Byford (vocals), Paul Quinn (guitar), Doug Scarrett (guitar), Nigel Glockler (drums) and Nibs Carter (bass) all happily signed, and Quinn even reached into his bag and handed out guitar pics to each.

On a sad note, right before we went to press last month, I learned of former Crimson Glory vocalist, Midnight's death. I'll never forget sitting in a hotel bar in Cleveland, Ohio, during the second BW&BK festival. Seven Witches' Jack Frost and Crimson Glory's Ben Jackson had acoustic guitars, and Midnight and James Rivera took turns singing songs until they finally threw us all out. The next day, Jackson and Midnight performed acoustically at Alice Cooper's restaurant, but the night before was truly something special. And so was Midnight.