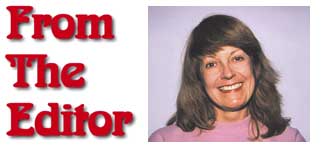 All good things must end


By Linda Hollar
It's with sadness, but also some relief, that this is the last issue of Harder Beat. It just seems like it's time.
Harder Beat began in April 1993 as a blue-Xeroxed, 8-1/2 x 11, six-page publication. We grew, and in April this year, celebrated our 16th Anniversary. Throughout the years (before the HB started and since), I've seen several thousand bands play (some multiple times, of course)… nationals and locals - and done many, many reviews and interviews. For four years before the HB, I wrote for a number of other local and regional publications.
My love for this style of music began in Chicago, when I dated a blonde, long-haired (below-his-waist), metal fan. He got tickets to almost every show that came through (including Led Zeppelin with John Bonham). I got hooked. It was the energy. I love being close to the stage, getting energy from the band and the crowd behind.
I moved to Dallas. Having no one to go to concerts with… I ran an ad in the Dallas Observer (back when they had such) saying "Rock Concert Buddy Wanted; share ticket costs). Fifty-five replies later, I was again seeing about every band on tour. (Note: This was back when you could wait in front of Rainbow Tickets at 5 AM). First row U2, second row Pink Floyd, third row Robert Plant; a meet and photos with Tina Turner before her show - all via "concert buddies." I was in rock 'n roll heaven once again.
Another highlight was the Harder Beat Showcase, which I put on for ten years. Briefly named the Z-Rock Showcase before, these monthly showcases, with four bands each night, were extremely popular. Until the club closed, they were held at Dallas City Limits on a Wednesday night, with 500-700 people regularly attending. Yes… a Wednesday night. It was $1 to get in and 25-cent beer until 10. The biggest crowd was 1,200 people. That night, all the tables and chairs were gone. I went into the owner's office and said, "Leon… what's going on?" No one's going to be here… Pantera is playing the Bronco Bowl!" He smiled and said, "You'll see."
Before the final band took the stage, people were lined up all the way around the club. Seems Pantera had announced they were going over to DCL afterward and invited everyone to join them. I introduced the Green Death Bunnies on stage, whose members (and I) were collectively saying, "H-o-l-y Shit!"
At that point in time, all the clubs were most supportive - some having full-page ads each and every month. Many bands advertised their shows as well.
The metal scene changed (with the stupid "Seattle scene" coming in). We managed to hang in there, but Dallas City Limits and the Basement closed (becoming The Lodge and a CVS store repectively). Other clubs opened and closed or changed locations.
With the advent of the Internet and MySpace, things began to slow down. At one time, we had regular support (ads) from a number of "like-minded" record labels - Metal Blade, Century Media, Nuclear Blast. A couple of years ago, all stated they were "no longer doing ads in regional publications," though still nudging us to write up their artists. This year, they stopped sending real CDs for review. Luckily, SPV continued to place full-page, color ads for their artists (most of whom our writers love)… until the German company declared bankruptcy earlier this year.
We, like print publications throughout the U.S., depend on advertising to pay the printers, our graphic artist, webmaster, distributors, writers and photographers.
And, it's been 16-1/2 years. When I started the HB, I figured I'd do it for about five years. Every December, another year had ticked by… It was fun, I got to cover almost any national act I wanted to, meet and interview rock stars, do reviews, and see lots of local bands. I also got to work out of my home, sitting at the computer with a cat on my lap or at least nearby.
To our many friends and supporters through the years, "THANK YOU!" Thanks also to our excellent staff of writers and photographers, our webmaster and especially graphic artist/writer Kevin White, who was in the trenches with me on too many 4 to 5-AM-ers. My apologies to our staff members (who know nothing about this and will be upset), to those who help us out each month and to those who'll miss us. We'll miss you too!
Linda Hollar, Editor/owner